CLART SeptiBac is an in vitro diagnostics product used for the detection and typing of Gram positive and Gram negative bacteria and fungi causing septicemia. Simultaneous detection is performed by multiplex PCR and subsequent visualization in low-density arrays, based on CLART Technology.
CLART SeptiBac detects, in positive blood cultures, Gram positive and Gram negative bacteria and fungi that cause septicemia. A global time reduction of the diagnosis is achieved, of more than 24 hours in many cases, thus allowing the physician to make adjustments in medication and / or therapies administered to each patient.
Moreover, CLART SeptiBac enables to detect Methicillin resistance marker "mecA" in bacteria of the Staphylococcus genus.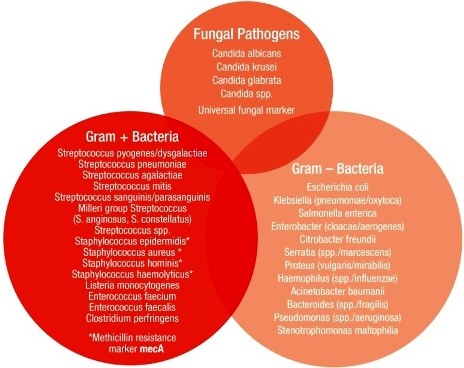 The use of molecular techniques in the detection of Sepsis reduces main limitations and disadvantages of conventional blood cultures
CLART SeptiBac kit has been developed and validated for the detection of different causative agents of septicemia in the following samples Positive Blood Culture.
Very high sensitivity and specificity values are achieved with CLART SeptiBac, due to probe-specific hybridization and presence of each probe in triplicate within the array.
CLART SeptiBac guarantees the quality of the results by including several controls in each test:
Amplification control in each amplification tube: avoids false negative results.
Endogenous genomic control: certifies the effectiveness of the extraction process and the presence of sample in the test.
Biotin markers: they have a dual aim; firstly, they act as reference system for the automatic alignment of the array grid and, secondly, they serve as control of the reagents performance.