CLART Technology
CLART is a low density microarray-based platform for clinical use that allows the detection of multiple targets in a single test. Sample processing is straightforward and the analysis and interpretation of results are performed automatically by a reader (CAR or CLINICAL ARRAY READER). Its simplicity makes this technology suitable for every molecular diagnostics laboratory.
CLART provides fast, sensitive and accurate results that meet the highest quality standards, and allows the clinician to take the right decisions on time.
CAR: CLINICAL ARRAY READER
Designed for automatic reading, analysis and interpretation of CLART-based diagnostic tests.
Suitable for all GENOMICA IVD assays.
Allows testing from 1 up to 96 samples per run.
User friendly and intuitive graphical interface.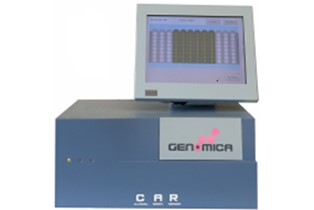 autoclart
Allows the fully automation of the visualization step, thus considerably reducing the hands-on time required by the process, as well as the intra-assay variability.
It's compacted size and the flexibility in the amount of samples to process (from 4 up to 96 samples simultaneously).